Turkish keyboard stickers transparent, size 14x14mm in different colors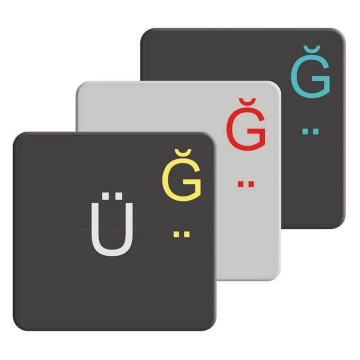 Shipping weight: 0,02 Kg
Product weight: 0,02 Kg
EAN: 4260439176004
Recommended retail price:
9,99 €
You save: 40%, that is 4,00 €
Adapt your Apple keyboard in a self-adhesive way to the Turkish writing system: With these stickers it's very flexible!
Update for Mac keyboards 2.0: Use these practical Turkish keyboard stickers (for a key size of at least 14 x 14 mm) in order to perfectly adapt your keyboard to the Turkish writing system. Therefore, you will remain flexible at any time because the high quality stickers can be attached precisely and removed again without residue. More and more native speakers or learners of the Turkish language discover these practical and inexpensive stickers for themselves to type faster and more intuitive. In terms of quality and durability, it is important to emphasize that a special protective coating on the surface ensures that the symbols / letters remain legible for a long time. The purchase of a new keyboard will be unnecessary with these innovative stickers.
Turkish Keyboard Stickers - benefits and opportunities compactly summarized:
inexpensive alternative to buying a new foreign language keyboard 
perfect for all Apple keyboards 
these stickers can be as well attached to newer notebook keyboards with larger keys
more and more Turkish learners and native speakers use these stickers
flexibility 2.0: the stickers can be easily removed without residue 
Would you like color accents? Discover our selection for optimum contrasts
You will finally tap faster and with fewer errors 
special protective coating on the surface ensures a convincing durability
There is no need to spend a lot of money: A smart solution for many keyboards
Order here with a few clicks these Turkish keyboard stickers at an attractive price and be with them linguistically flexible at any time. You will also enjoy a great flexibility because these stickers are not only suitable for Mac keyboards, but also for notebooks with larger keys. And then you still have the opportunity to choose your favorite color to add an individual touch. Please do not "overlook" that the chosen color should enable a good readability (the color yellow is recommended for black keyboards, but less so for lighter versions, for example).
Dimensions of the keyboard stickers:
14 x 14 mm
Colors:
selectable, please consider your needs when ordering (please pay attention to an optimum contrast for easy readability)