Sticker Ripple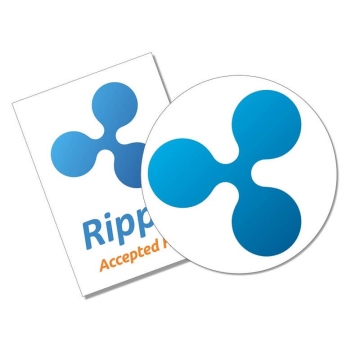 Shipping weight: 0,10 Kg
Product weight: 0,01 Kg
EAN: 4260439179869
Pay with Ripple? No problem!
With these stickers you can create a visual message at your point of sale or sales stores for your customers that you accept Ripple payment. Ideally suited for the entrance door of your shop, for placement in your salesrooms, or at your checkout area. The stickers catch the eye immediately. This will also attract new customers to your shop who may not have known beforehand that you accept crypto currencies as a means of payment. Of course also an absolute must-have for all Ripple fans!
The stickers in detail:
90µ white adhesive film with high-gloss UV varnish
high adhesive effect, robust, outdoor and weather-resistant
easy to pull off due to practical back slit
What is XRP / Ripple?
Ripple is an American company founded under the name Opencoin. This company developed the Ripple protocol and also renamed itself Ripple in 2015. Ripple mainly offers solutions for bridging (international) transactions between banks. To achieve this they developed three solutions: xRapid, xCurrent, and xVia. The associated Coin XRP can be used on the Ripple Blockchain, making interbank transactions even easier. Traditional transactions can be seen as inefficient. Transactions can take days and can be expensive. When banks join one of Ripple´s platforms to process transactions, they will be much more efficient.

Use these stickers to easily create a visual eye-catcher! Whether for business or private use.
Sticker: White adhesive film with high-gloss UV varnish (weather-resistant)
Thickness: 90µ
Size: Ø 95mm or 74x105mm (see selection list)
Unit: 1 piece or in pack of 10 (see selection list)
Range of application: Outdoor
Customers have also bought the following items