Sticker Ethereum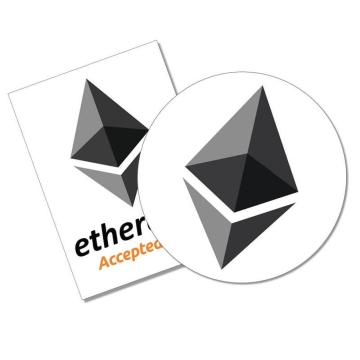 Shipping weight: 0,10 Kg
Product weight: 0,01 Kg
EAN: 4260439179814
Pay with Ethereum? No problem!
With these stickers you can create a visual message at your point of sale or sales stores for your customers that you accept Ethereum payment. Ideally suited for the entrance door of your shop, for placement in your salesrooms, or at your checkout area. The stickers catch the eye immediately. This will also attract new customers to your shop who may not have known beforehand that you accept crypto currencies as a means of payment. Of course also an absolute must-have for all Ethereum fans!
The stickers in detail:
90µ white adhesive film with high-gloss UV varnish
high adhesive effect, robust, outdoor and weather-resistant
easy to pull off due to practical back slit
What is ETH / Ethereum?
Like Bitcoin, Ethereum uses a blockchain as a decentralized database for all transactions in the system. With Bitcoin, however, essentially only Bitcoin transactions can be stored on the chain. The Ethereum block chain, on the other hand, provides for a large number of additional transaction types that can be stored in the block chain in the form of so-called smart contracts. Such smart contracts can map a wide variety of real-world processes and procedures and link them to hardware and software products.
At present, the Ethereum system still uses a bitcoin-like proof-of-work approach to update the blockchain and extract its own crypto currency, ether. In the medium term, however, this is to be converted to proof-of-stake in order to make the system more energy-efficient. Proof-of-stake-based systems will no longer perform complex (but meaningless) calculations to secure the blockchain against attacks. Instead, attacks are made expensive by only allowing users to write new database entries if they keep money in the system for a longer period of time.
Use these stickers to easily create a visual eye-catcher! Whether for business or private use.
Sticker: White adhesive film with high-gloss UV varnish (weather-resistant)
Thickness: 90µ
Size: Ø 95mm or 74x105mm (see selection list)
Unit: 1 piece or in pack of 10 (see selection list)
Range of application: Outdoor
Customers have also bought the following items