Sticker "Bitcoin accepted here" 74x105 mm 1 piece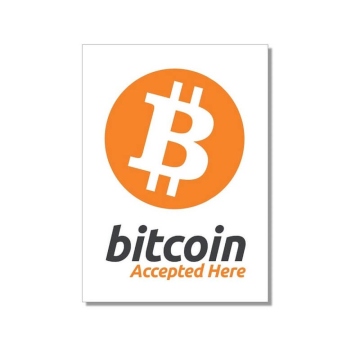 Shipping time: 1 - 3 workdays**
Shipping weight: 0,10 Kg
Product weight: 0,01 Kg
EAN: 4260439179739
Pay with Bitcoin? No problem!
With these stickers you can create a visual message at your point of sale or sales stores for your customers that you accept Bitcoin payment. Ideally suited for the entrance door of your shop, for placement in your salesrooms, or at your checkout area. The stickers catch the eye immediately. This will also attract new customers to your shop who may not have known beforehand that you accept crypto currencies as a means of payment. Of course also an absolute must-have for all Bitcoin fans!
The stickers in detail:
90µ white adhesive film with high-gloss UV varnish
high adhesive effect, robust, outdoor and weather-resistant
easy to pull off due to practical back slit
What is BTC / Bitcoin?
Bitcoin is digital money. Physically this currency does not exist, there are only special registers in which records are kept of who has how many Bitcoins and who transfers them somewhere. These registers are called blockchains. This is similar to cashless payments with banks: if you pay with a credit card in a store, you don't give physical money to anyone. Your operation is simply fixed and prescribed somewhere in the bank register. Bitcoins differ from the conventional currency in that the registrations are not stored centrally in banks and payment systems, but simultaneously on all computers that work with Bitcoins. Anyone can view all operations with all Bitcoins in history. The registers are protected by cryptography. Manipulating the register entries in all copies is impossible. It is impossible to rewrite the data in blocks and say that someone now has millions. Bitcoin is quite protected in this sense.
Use these stickers to easily create a visual eye-catcher! Whether for business or private use.
Sticker: White adhesive film with high-gloss UV varnish (weather-resistant)
Thickness: 90µ
Size: "Bitcoin accepted here" 74x105mm
Unit: 1 piece
Range of application: Outdoor
Customers have also bought the following items