Seed Phrase Recovery metal plate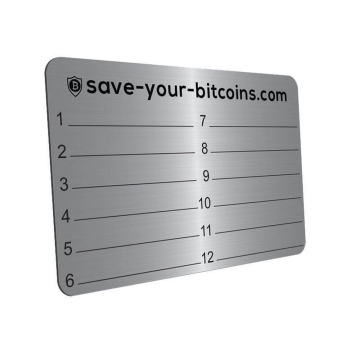 Shipping time: 1 - 3 workdays**
Shipping weight: 0,43 Kg
Product weight: 0,13 Kg
EAN: 4260439178831
Paper is no basis for the recovery seed phrase: rely on this robust metal plate
If your hardware wallet is lost or severely damaged, the long recovery seed phrase will immediately come into focus. With this security code, you can recover your data and thus secure the access to your Bitcoins or other digital currencies. But where should this long code be stored safely and above all permanently? Paper or a paper wallet cannot be a solution for your safety. Moisture or fire are enough to destroy the access to restoring your data forever. And of course, you should not keep this very sensitive security data on the Internet to make it inadvertently accessible to hackers. Here, we present you a small, but very robust metal plate, which is ideal for storing physically the recovery seed phrase.
Product advantages: The recovery seed plate is maximally safe on this metal plate
paper will become unreadable in case of fire and moisture, this extremely resistant metal plate will not
field-proven for your safety: this metal (V4A) embodies a functional material mix with the highest levels of resistance used in the industry
the fire experiment in the video shows that the engraved code is even better readable after such an impact
excellent long-term protection of your recovery seed phrase against corrosion and various external influences (heat, aggressive chemicals, salt water etc.)
innovative design: maximum robustness coupled with practical handiness in credit card format (weight only 34 grams)
superior alternative to a paper wallet: paper is no basis for the secure use of cryptocurrencies!
Metal plate for engraving: Permanent protection against various external influences & virtual threats
We offer you a useful product innovation with this metal plate on which you can physically secure the recovery seed phrase permanently. Once being engraved, it is safe from water, rust, fire (temperatures of up to 1,400 degrees), chloride-containing substances and aggressive chemicals such as sulfuric acid. We also offer you a functional engraving pen for backing up your recovery seed phrase. Thanks to the high-quality diamond tip, it can also be used flexibly on other materials.
The future of payments can now begin with our product innovations for cryptocurrencies such as Bitcoin and Ethereum: We offer you future-oriented security solutions for all areas. You can engrave your Recovery Seed Phrase on this sturdy metal plate and permanently secure it physically!
Material:
Stainless steel WNo. 1.4401 (X5CrNiMo17-12-2), AISI 316, (V4A)
Size:
85 x 55 x 1 mm
Weight:
34 grams
Surface:
brushed
Print:
black, etched