Ledger-S-PLUS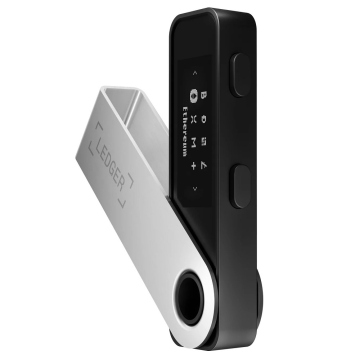 Shipping time: 1 - 3 workdays**
Shipping weight: 0,25 Kg
Product weight: 0,15 Kg
EAN: 3760027782095
Secure storage, bigger display & more storage space - the Ledger Nano S Plus
The Ledger Nano S Plus is the successor to the popular Ledger Nano S. The coveted hardware wallet for cryptocurrencies has now been made even better. Here, tried and tested functions have been retained and often desired changes have been made and thus improved. The biggest difference is in the display size and storage space. Now it is possible to install over 100 apps at the same time and manage over 5,500 digital assets. The larger and also brighter display makes it easier to use.
Keeping cryptos safe with a hardware wallet
Once you are in possession of cryptocurrencies, you have a private key to access your coins. This in turn means that anyone who comes into possession of this key has access to the assets. This makes it all the more important to keep it particularly safe. With a hardware wallet like the Ledger Nano S Plus, access to this private key is stored offline. Because it is offline and contains the CC EAL5+ certified security chip, hackers have no chance of stealing the data. Even if the Ledger Nano S Plus is connected to the PC, this is not possible. This means that no one but you can access the coins. This way, cryptocurrencies such as Bitcoin, Ethereum, XRP or Dogecoin are stored safely.
Optimal compatibility and easy connection
The Ledger Nano S Plus includes a USB cable and can therefore be connected very simply via USB-C. The hardware wallet is compatible with Windows (8.1+), macOS (10.14+) and Linux. With the help of an OTG cable, the cryptocurrencies can also be managed on a smartphone with Android (7+).
It gets even easier with Ledger Live
Ledger Live is the all-in-one solution for crypto assets. Coins, tokens and NFTs can be managed in this secure app. It is also possible to buy over 50 tokens and coins or exchange cryptocurrencies. Sending and receiving from other wallets is also effortless and secure. Ledger Live allows you to keep track of all your NFTs. In the app, you can stack your assets, monitor them in real time and watch them grow. Via Ledger Live, it is also possible to access more than 15 Web 3.0 apps such as Paraswap, Lido or Card. In addition, you have the opportunity to expand your knowledge of crypto through numerous videos.
The most important advantages at a glance:
certified security element (CC EAL5+)
simple connection through USB-C
large, bright display for interference-free use
large memory allows the installation of over 100 apps
high-quality workmanship made of brushed stainless steel and plastic
3 recovery sheets included
also suitable for crypto beginners
The most important functions at a glance:
more than 5,500 supported coins and tokens
secret recovery phrase with 24 words
sign and send NFT transactions via Ledger Live
supports third-party providers and is therefore compatible with over 50 wallets such as MyEtherWallet or Metamask
with pin code for optimal protection against access by other people
Product details:
Dimensions: 62.39mm x 17.40mm x 8.24mm
Screen size: 128x64 pixels
Screen type: OLED
Weight: 21 grams
Compatibility: 64-bit desktop computers (Windows 8+, macOS 10.8+, Linux), Android smartphones (with OGT cable)
Connection: USB-C
Certification level: CC EAL5+
Chips: ST33K1M5
Materials: brushed stainless steel, plastic
Colour: Black
Contents: 1 hardware wallet, 1 USB-C to USB-A cable, 1 First Steps Manual, 3 Recovery Sheets, 1 Lanyard