Ledger Nano X - Bluetooth Hardware Wallet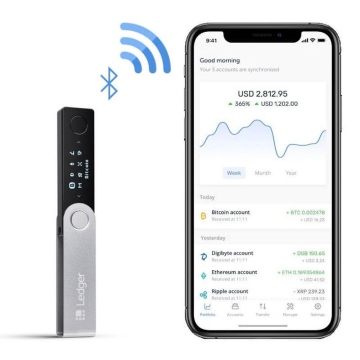 Shipping time: 1 - 3 workdays**
Shipping weight: 0,47 Kg
Product weight: 0,17 Kg
EAN: 3760027781500
Ledger Nano X: the perfect solution for your cryptocurrencies
Even if cryptocurrencies such as Bitcoins, Ripple, or Altcoins are fundamentally virtual, you surely want to make them 'tangible' in a secure form. This goal can now be achieved with the state-of-the-art Bluetooth Bitcoin Wallet Ledger Nano X. With Ledger's ground-breaking solution for the secure use of all common cryptocurrencies, you can protect your passwords and digital assets from hackers. The handy and very lightweight design of the Ledger Nano X provides a high degree of flexible mobility. Wherever you are: With this innovative Bitcoin Wallet, you can rely on the latest encryption technology with Bluetooth. The entire architecture of this hardware wallet has been consistently designed for security. Although the technology behind Ledger's Bluetooth Bitcoin Wallet is very complex, the small device impresses with intuitive usability. The screen and two buttons are enough to keep an eye on everything, always and everywhere.
Ledger Nano X: the main advantages in summary
newest safety standards for holistic protection
mobile use possible thanks to Bluetooth
easy backup for the security of your digital assets
flexible for many cryptocurrencies
attractive design with very handy dimensions
easy and intuitive use
Safety at the height of the newest technical possibilities
The use of digital currencies allows completely new payment options and perspectives. With the Ledger Nano X, you can be sure that your highly sensitive data is stored within a certified security element (CC EAL5 +). This is a very secure and, above all, tried and tested chip that is used in connection with passports or credit cards. Your data will never leave the secure environment of this chip! If you travel a lot for business or pleasure, the security of your digital money is very important. In this sense, your digital assets will be preserved even if you lose the device or if it is damaged. Use the 24-word recovery phrase to restore your accounts on any other Ledger Wallet. For storing the recovery seed phrase and your access data, we also offer you highly secure product innovations.
Mobile, secure, multifunctional & simple: a powerful Ledger Hardware wallet for many cryptocurrencies
Thanks to the latest Bluetooth technology, you can carry out transactions with the highest level of security everywhere. The Ledger Live Mobile App will never lose track of your transactions, which are encrypted end-to-end on all Bluetooth connections. Get now innovative future technology, as the Ledger Nano X allows you to store up to 100 applications simultaneously. You do not have to commit to a specific cryptocurrency like Bitcoin if you choose this hardware wallet from Ledger. By managing cryptocurrencies on a hardware wallet, you never lose the overall view and you can keep and use each individual currency as safe as possible. In addition, new currencies and applications can be added!
The Ledger Nano X offers everything you need for the future of digital money in terms of security, design, flexibility and functionality. Take advantage of this Bitcoin Wallet and use leading technology for the protection of all your digital cash!
Delivery:
1x hardware wallet
1x USB cable
1x instructions for commissioning
3x recovery sheets
1x lanyard
Product details:

Color:
black, stainless steel
Size:
72mm x 18.6mm x 11.75mm
Weight:
34g
Material:
Brushed stainless steel and plastic
Battery:
100mAh
Connector:
USB Type-C
Certification level:
CC EAL5 +
Chips:
ST33J2M0 (secure) + STM32WB55
Compatibility:
64-bit desktop computer (Windows 8+, macOS 10.8+, Linux) or smartphone (iOS 9+ or Android 5+)