Hardware Wallet Trezor for cryptocurrencies like Bitcoin, Ethereum (incl. tokens) etc.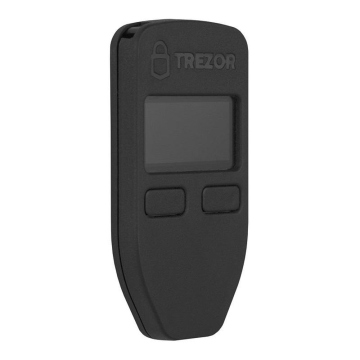 Shipping weight: 0,30 Kg
Product weight: 0,10 Kg
EAN: 4260439179647
Use TREZOR as Hardware Wallet for Bitcoin and other cryptocurrencies
Digital currencies like Bitcoin have been on the rise during the last years. They provide a high level of security and therefore they have become a real alternative to ?real? currencies. With this TREZOR hardware wallet, you will opt for the first and best-known variant in this area. Discover the safest and most widely used method to use and above all deposit Bitcoins. You can safely store your private passwords in the highly secure environment of TREZOR to be flexible at any time. In addition to the central security aspects, this wallet can score points in practical tests as it is very easy to use. The wallet impresses with very handy dimensions, it can easily be stowed or carried along. Of central importance in terms of security is that the seed is integrated on the wallet. The seed thus never leaves the device at any time (except for a possible back-up). Flexibility is given as this hardware wallet supports a wide range of cryptocurrencies such as Bitcoin, Zcash, Dash, Ethereum Classic or Litecoin.
TREZOR: Features and benefits in the summary
quality product 
support of a large community ensures consistent development
usable for all common cryptocurrencies (Bitcoin, Ehtereum Classic and many more)
completely mobile in use (via Android, if OTG cable available)
convincing functionality and easy to use
also usable as a powerful manager for passwords
FIDO / U2F compatible and usable as a second factor in several services
Become part of a secure community for cryptocurrencies

Numerous reviews show that TREZOR enjoys a lot of popularity as a secure solution for crypto-currencies. This is mainly due to the desirable fact that there are numerous apps with which the range of functions can be adapted or individually expanded. Discover many software solutions or online services that support the official API. Take the chance to directly interact with the wallet by means of using the stock exchange Bitstamp or its homepage.
Technical specifications:

Everything that could be hacked has been eliminated. The focus of TREZOR is on software logic and powerful hardware features.
Screen:
Bright OLED (128 x 64 pixels)
Size:
60 x 30 x 6 mm
Weight:
12g (0,42oz)
CPU/Cortex-M3:
120 MHz embedded ARM processor
Temperature range
between ? 20 and + 60 degrees
Connection:
Micro USB (PC or mobile)
Desktop:
Windows, macOS, Linux
Mobile app for Android
CE and RoHS certified
(reliability, quality and high environmental standards)
Customers have also bought the following items