Cryptosteel: robust offline storage medium for sensitive security data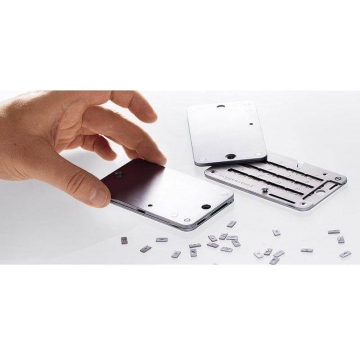 Shipping time: 1 - 3 workdays**
Shipping weight: 0,68 Kg
Product weight: 0,38 Kg
EAN: 4260439179098
Cryptosteel: the ultimate security solution for cryptocurrencies

This is the right place for you if you are looking for convincing innovations for the secure use of emerging cryptocurrencies. With Cryptosteel, we present you an indestructible storage medium made of stainless steel on which your recovery seed phrase or passwords can be kept very safely. And that's absolutely necessary! Without this code, it will not be possible to recover your digital assets if the hardware wallet is stolen or damaged. The creator of Cryptosteel, Wojtek Stopinski, wanted to realize the ultimate cold storage wallet. With Cryptosteel, he has managed to invent a storage medium on which information is completely isolated and thus very secure. The product name is program: Cryptosteel is fireproof, waterproof and shockproof to safely back up the recovery seed phrase or other passwords without any hacker intrusion. The excellent robustness has been proven with experiments. Through a lock, the individual code can also be protected from unwanted insights.
Cryptosteel: Product benefits in the overview
security elements like the recovery seed phrase are safe from hackers, water, fire and bumps
fire resistance up to 1.200 degrees
long-term waterproof, protection against corrosion
indestructible material: 100% stainless steel (type 304)
perfect offline storage medium 
no tools needed, everything is included in the set
Lifetime Satisfaction Guarantee as a reliable quality feature
model Mnemonic: 285 particles (numbers, capital letters & some special characters) can be used
Cryptosteel is easy to use for your own safety

Robust security is practical and handy with Cryptosteel as the size corresponds to a credit card (weight approx. 200 grams). Inside, you can store on each page 12 words of 4 characters each, hence a total of 96 characters. You can use the space for important passwords or the recovery seed phrase. The available space for a password back-up is an ideal security solution for popular hardware wallets such as Ledger or Trezor. Depending on the set, different numbers of characters are available. In the product version Mnemonic presented here, you can use 285 particles (capital letters, numbers and special characters). The small characters can be easily inserted after Cryptosteel has been unlocked. Included is a guide that will familiarize you with the correct use.
You wrote down passwords or the recovery seed phrase on paper the first time you set up the Hardware Wallet or saved it on the Internet? The product description should have shown you that Cryptosteel is clearly the safer solution. Order now an indestructible offline storage medium for a long-term protection of your sensitive data!
Customers have also bought the following items