Cryptosteel Capsule - The Mother of all Backups. Cryptosteel Capsule Solo Seed Phrase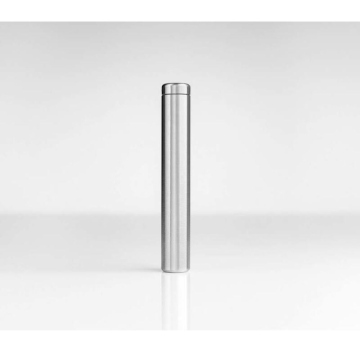 Shipping time: 1 - 3 workdays**
Shipping weight: 0,51 Kg
Product weight: 0,10 Kg
EAN: 5060632460042
Cryptosteel Capsule: Discover a material innovation for secure backups for cryptocurrencies

In times of frequent cyberattacks, you will have a great interest in keeping very sensitive data, such as the recovery seed phrase, as safe as possible. Especially if you often use cryptocurrencies in considerable sums. If your hardware wallet is destroyed or stolen, you can quickly restore and manage your digital assets. A reliable backup is therefore very important for your digital assets!
Here in our shop, we have already presented some practical solutions to keep very sensitive data with maximum security. With Cryptosteel Capsule, we are presenting you an ultimate innovation ('the mother of all backups') to physically store highly confidential data from now on, far away from all dangers of the Internet. Cryptosteel Capsule has been developed with the goal of outperforming all available solutions in the market in terms of durability, usability and compatibility. And the result is really impressive. Please take a look at the product video to get a real idea of this device for the physical password storage.
You rely on extremely robust security with Cryptosteel Capsule

In order to ensure the highest degree of physical security for your passwords, the design must be able to withstand extreme conditions. In this sense, the storage capsule, which you can also carry on the body if you want, proves to be extremely robust. It is fireproof up to 1,400 degrees. Even after a fire, you will still be able to use your data without any problems. With this innovative security solution, you will remain flexible because all printable ASCII characters are included in the set (96 in total). You can physically secure up to 123 characters of all kinds, however complex and long your passwords or the recovery phrase may be! Numbers and symbols can be saved as well as letters (spaces can also be considered).
Cryptosteel Capsule: all product benefits at a glance
product innovation for storing physically the recovery seed phrase or passwords of all kinds
very easy to handle
96 ASCII characters and separators are included for flexible use
extremely robust and durable construction made of high-quality steel, which is fireproof up to 1,400 degrees
transparent storage box to quickly find the necessary characters
up to 123 characters can be stored in the capsule
the set includes 800 plates for an immense variety of combinations
increased protection: at first glance, sensitive passwords cannot be recognized
handy design with a low weight of only 95 grams
Your safety has earned a backup like this made of robust steel!
Improved security also means that your passwords are invisible at first glance, even when the capsule is open. Adjustable separators provide even greater flexibility in securing passwords. Each Cryptosteel capsule is provided with a fire seal to prevent abuse. In addition, a clear identification of the capsule is possible. This storage option proves to be extremely robust and durable: it is shockproof, rustproof and even waterproof. When choosing a repository, you do not have to be particularly picky. Due to the very handy design, the capsule can easily be carried or find a safe hiding place nearly everywhere. The rather inconspicuous, though very noble design will not let anyone suspect that inside a valuable numeric code is hidden. The shell of Cryptosteel Capsule consists of AISI 303. Core, separators and all fasteners for the characters are made of AISI 304. Thus, the highest quality standards have been implemented regarding the steel used.
Cryptosteel Capsule - extremely robust, yet handy and easy to use. Get now the "mother of all backups" and define physical security for sensitive data at the highest level!
Backup type compatibility
100% coverage for:
BIP39 (unabbreviated 12-word recovery seeds or 4-letter abbreviations of 24-word recovery seeds)
Shamir Backup SLIP39 (4-letter abbreviations of 20-word recovery seeds)
BIP32 root keys
WIF private keys
Monero mnemonic seeds (4-letter abbreviations of 25-word recovery seeds)
more than 99% coverage for:
hexadecimal strings up to 123 characters
random ASCII strings up to 55 characters
Content:
1 x Cryptosteel Capsule
1 x Tile Set (more than 800 pieces)
Material:
stainless steel
Dimensions packaging:
255 x 185 x 25 mm
Weight:
515 g