Collectible coins made of metal Bitcoin, Ethereum, Litecoin (depending on the variant, real gold or real silver plated)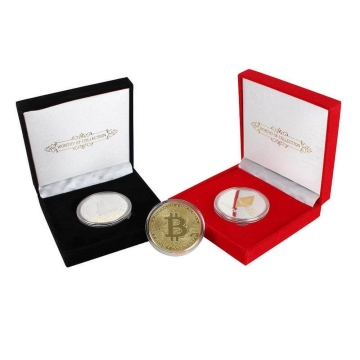 Shipping weight: 0,20 Kg
Product weight: 0,03 Kg
EAN: 4260439178381
What do you like? 3 collector coins (Bitcoin, Litecoin & Ethereum, depending on the variant, real gold or real silver plated) and 2 noble caskets
These high quality and exclusive commemorative coins for cryptocurrencies are impressive! Here, we present you three commemorative coins for the world-famous cryptocurrencies Litecoin, Bitcoin and Ethereum. These are symbolic coins, especially as the value of these currencies is purely digital and thus not tangible. Our product selection is rounded off by 2 high quality gift boxes (in red and black), in which the exclusive coins can be presented effectively. Whether as an exclusive gift or for the effective presentation in your own collection: With these products, you treat yourself to a special rarity which can possibly also gain value beyond the symbolic value in the future.
You cannot decide what you want...?
Take a look at the design of the coins for Bitcoin, Litecoin and Ethereum which appear golden, silvery or in a combination of the two classics. In addition to the logo, the designs contain sophisticated details underlining the digital character of these emerging currencies. All coins are made of sturdy metal.
What collectors want: 3 commemorative coins and 2 noble boxes
get your personal highlights here
attractive price-performance ratio
you can finally hold cryptocurrencies in your hands
detailed design of each coin
perfect as an original gift idea
Cryptocurrencies write their own success story: These coins make them visible
You too may have noticed the boom around Bitcoin in recent months. The alternative currencies Litecoin and Ethereum are not quite as successful, but just as popular because of their security standards. Millions of people around the world use these digital currencies to make payments more safely. If you too are pursuing this goal, you will also find modern and functional hardware wallets in our shop. The value of these cryptocurrencies does not depend on politics or banks, but on the users themselves. Fans definitely appreciate the true value of these symbolic commemorative coins.
Bitcoin, Litecoin & Ethereum: the choice is yours!
Depending on the variant, real gold or real silver plated.
Get the coin(s) and/ or gift box(es) that you like best or that would fit well in your collection. In any case, the high quality gift box is a perfect match for these coins!
Characteristics
Customers have also bought the following items