Bundle: Ledger Nano X + seed metal plate incl. engraver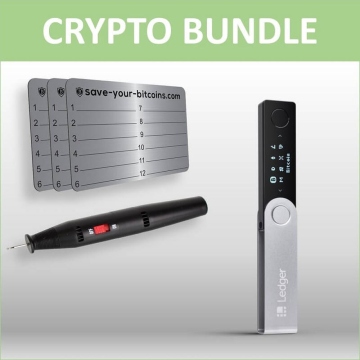 Shipping weight: 0,84 Kg
Product weight: 0,54 Kg
EAN: 4260439179487
Our Crypto Bundle offer includes the following products:
1 x Ledger Nano X - Bluetooth Hardware Wallet
1 x Recovery Kit with optional 1-3 Seed Phrase Metal Plates incl. Engraver

Detailed description of each item is as follows:
---
Ledger Nano X - Bluetooth Hardware Wallet
Ledger Nano X: the perfect solution for your cryptocurrencies
Even if cryptocurrencies such as Bitcoins, Ripple, or Altcoins are fundamentally virtual, you surely want to make them 'tangible' in a secure form. This goal can now be achieved with the state-of-the-art Bluetooth Bitcoin Wallet Ledger Nano X. With Ledger's ground-breaking solution for the secure use of all common cryptocurrencies, you can protect your passwords and digital assets from hackers. The handy and very lightweight design of the Ledger Nano X provides a high degree of flexible mobility. Wherever you are: With this innovative Bitcoin Wallet, you can rely on the latest encryption technology with Bluetooth. The entire architecture of this hardware wallet has been consistently designed for security. Although the technology behind Ledger's Bluetooth Bitcoin Wallet is very complex, the small device impresses with intuitive usability. The screen and two buttons are enough to keep an eye on everything, always and everywhere.
Ledger Nano X: the main advantages in summary
newest safety standards for holistic protection
mobile use possible thanks to Bluetooth
easy backup for the security of your digital assets
flexible for many cryptocurrencies
attractive design with very handy dimensions
easy and intuitive use
Safety at the height of the newest technical possibilities
The use of digital currencies allows completely new payment options and perspectives. With the Ledger Nano X, you can be sure that your highly sensitive data is stored within a certified security element (CC EAL5 +). This is a very secure and, above all, tried and tested chip that is used in connection with passports or credit cards. Your data will never leave the secure environment of this chip! If you travel a lot for business or pleasure, the security of your digital money is very important. In this sense, your digital assets will be preserved even if you lose the device or if it is damaged. Use the 24-word recovery phrase to restore your accounts on any other Ledger Wallet. For storing the recovery seed phrase and your access data, we also offer you highly secure product innovations.
Mobile, secure, multifunctional & simple: a powerful Ledger Hardware wallet for many cryptocurrencies
Thanks to the latest Bluetooth technology, you can carry out transactions with the highest level of security everywhere. The Ledger Live Mobile App will never lose track of your transactions, which are encrypted end-to-end on all Bluetooth connections. Get now innovative future technology, as the Ledger Nano X allows you to store up to 100 applications simultaneously. You do not have to commit to a specific cryptocurrency like Bitcoin if you choose this hardware wallet from Ledger. By managing cryptocurrencies on a hardware wallet, you never lose the overall view and you can keep and use each individual currency as safe as possible. In addition, new currencies and applications can be added!
The Ledger Nano X offers everything you need for the future of digital money in terms of security, design, flexibility and functionality. Take advantage of this Bitcoin Wallet and use leading technology for the protection of all your digital cash!
Delivery:
1x hardware wallet
1x USB cable
1x instructions for commissioning
3x recovery sheets
1x lanyard
Product details:

Color:
black, stainless steel
Size:
72mm x 18.6mm x 11.75mm
Weight:
34g
Material:
Brushed stainless steel and plastic
Battery:
100mAh
Connector:
USB Type-C
Certification level:
CC EAL5 +
Chips:
ST33J2M0 (secure) + STM32WB55
Compatibility:
64-bit desktop computer (Windows 8+, macOS 10.8+, Linux) or smartphone (iOS 9+ or Android 5+)
---
Seed phrase - Recovery Metal plate incl. engraving pen
Nothing gets lost with this recovery metal plate incl. engraving pen
With our functional hardware wallets from our attractive selection, you will enjoy the power of future-oriented technology to securely and flexibly use digital currencies like Bitcoin, Ethereum or Ripple. For the protection of your personal possessions, the so-called recovery phrase plays a central and decisive role. It should always be kept safe so that your data can be recovered quickly, safely and without loss in the event of theft or damage to your hardware wallet.
But where should you keep this long password safely?
Paper (paper wallet) is for sure not the perfect solution as it is quickly unreadable due to external influences such as water, heat or sun. There are supposed to be paper monsters who secretly sneak into our walls at night and simply eat paper which then disappears. In the worst case, you lose access to restoring your finances with a paper wallet. Better rely on the innovation that we have introduced and developed: Get this special metal plate that can be engraved in a few simple steps (the necessary engraving pen is included).
From now on, store the recovery phrase on a physical metal plate that is extremely resistant to external influences such as fire and acids.
Even though we are all fans of the internet, the recovery seed should not be there in any form!
We guarantee that our metal plate is safe from hackers -> no USB, no LAN, no BT :)
This metal plate easily becomes a safe place for the recovery phrase
Please take a look at the short video that shows you the simple application and the advantages compared to a paper wallet. After that, you can start immediately, even without previous experience in engraving. Hold the pen securely in your hand and turn it on. You will develop a very good feeling for engraving after the first sign. Thanks to the diamond point, the pen glides pleasantly over the surface so that you hardly must exert any force. This ensures good readability.
Physically secure your recovery phrase now: advantages & features
efficient protection against fire (melting point at 1.400 degrees Celsius): legibility remains guaranteed!
highly effective protection against corrosion (salt water, solvents etc.)
only high-quality materials have been chosen for this metal plate
the contained molybdenum protects the engraved code and the card from chloride-containing substances
handy and lightweight, flexible to store (credit card size, weight only 34 g )
You can, if you wish, engrave further information with the pen provided (parts of the wallet address, a note which wallet...)
The material convinces with these properties
You will hold a functional mix of materials in your hands that contains not only steel, but also 17% chromium, 12% nickel, 5% carbon and 2% molybdenum. At a melting point of 1.400 degrees, this plate has a very strong overall solidification. For the process of engraving, only the supplied pen should be used for perfect results. It is a material mix that offers optimum corrosion resistance. In numerous industrial areas, this field-proven material is used (it is also known under the designations of stainless steel 1.4401 or 316). The plate is very resistant to aggressive substances such as sulfuric acid, iodide or bromide. The addition V4A in the product description indicates that, due to its nature, this metal plate offers excellent long-term protection against rust. This high-quality steel is also used in the chemical industry, in swimming pools (chlorine) or in refractory systems in salt water.
Which alternative offers this kind of protection against fire?

A paperwallet may be an obvious way to keep passwords safely. We certainly do not need to tell you what happens to your recovery phrase on paper in the event of a fire. If you engrave your personal access key on this special plate, it will still be readable after a fire. Please take a look at our product video with the fire experiment. We tested up to 1,200 degrees and the engraving was even better to read after this extreme heat impact!
Handy, practical and easy to store
Although it is a robust metal plate, it is still very handy. It fits into any standard wallet and can therefore be flexibly carried anywhere - we decided to use a credit card format. Of course, you can also deposit in a safe. We have designed the metal plate so that you can use even more space for engraving. Keep your private keys or the BTC address on this extremely resistant metal plate. We have designed the metal plate so that you can use even more space for engraving. Safe your private keys or the BTC address on the back of this extremely durable metal plate.
The quality of the engraving pen depends on every detail
And you will notice that when you hold the engraving pen in your hands and easily write the first letters/ numbers on the plate. Its high performance makes it easy to engrave your personal recovery phrase. In this regard, the integrated diamond tip provides perfect results for many surfaces such as stainless steel, stone, ceramic and plastic. Cheap alternatives quickly cause handling issues, so you often cannot read the engraving well. With this model, you can rely on convincing quality. The engraving pen is battery operated and has a powerful engine. Anyone who already knows engraving pens knows that cheap versions cause problems as the push button must always be pressed or the engine is simply too weak. We have spent a few euros more and provide you an engraving pen which has a slide switch and thus, after being switched on, you can be completely focus on the engraving. 
An important note:
Please take time for engraving. The deeper and more carefully you engrave, the safer and better legible the engraving will be.
A paper wallet is not the perfect security base - enjoy future-proof security from now on! True to this motto, enjoy with this innovative set new ways to make the recovery phrase virtually indestructible and consistently keep it away from hackers, other virtual threats and fire, water or even acids!
Delivery:

1 x recovery stainless steel plate (front and back engravable)
1x engraving pen with battery compartment (batteries, 4x AA not included)
1x storage box (stainless steel) for metal plate, brushed
1x gift box
Product details:

Metal plate:

Material:
Stainless steel WNr. 1.4401 (X5CrNiMo17-12-2), AISI 316, (V4A)
Size:
85 x 55 x 1 mm
Surface:
brushed
Print:
black, etched
Engraving pen:
Application:
on stainless steel, stone, wood, plastic, ceramics, glass, silver, metal, leather
Battery type:
4 x AA (not included)
Tip:
diamond
Engine:
18,000 RPM
Engraving pen size:
16 x 2.5 cm
Battery compartment size:
62 x 78 x 25 mm