Bundle: Ledger Nano X + private key metal plate incl. engraver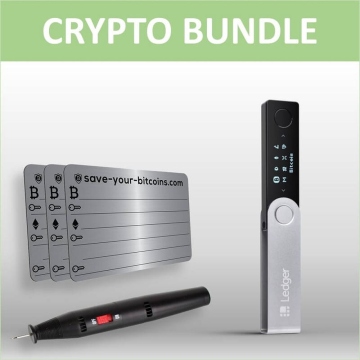 Shipping weight: 0,84 Kg
Product weight: 0,54 Kg
EAN: 4260439179524
Our Crypto Bundle offer includes the following products:
1 x Ledger Nano X - Bluetooth Hardware Wallet
1 x Recovery Kit with optional 1-3 Private Key Metal Plates incl. Engraver

Detailed description of the individual items are as follows:
---
Ledger Nano X - Bluetooth Hardware Wallet
Ledger Nano X: the perfect solution for your cryptocurrencies
Even if cryptocurrencies such as Bitcoins, Ripple, or Altcoins are fundamentally virtual, you surely want to make them 'tangible' in a secure form. This goal can now be achieved with the state-of-the-art Bluetooth Bitcoin Wallet Ledger Nano X. With Ledger's ground-breaking solution for the secure use of all common cryptocurrencies, you can protect your passwords and digital assets from hackers. The handy and very lightweight design of the Ledger Nano X provides a high degree of flexible mobility. Wherever you are: With this innovative Bitcoin Wallet, you can rely on the latest encryption technology with Bluetooth. The entire architecture of this hardware wallet has been consistently designed for security. Although the technology behind Ledger's Bluetooth Bitcoin Wallet is very complex, the small device impresses with intuitive usability. The screen and two buttons are enough to keep an eye on everything, always and everywhere.
Ledger Nano X: the main advantages in summary
newest safety standards for holistic protection
mobile use possible thanks to Bluetooth
easy backup for the security of your digital assets
flexible for many cryptocurrencies
attractive design with very handy dimensions
easy and intuitive use
Safety at the height of the newest technical possibilities
The use of digital currencies allows completely new payment options and perspectives. With the Ledger Nano X, you can be sure that your highly sensitive data is stored within a certified security element (CC EAL5 +). This is a very secure and, above all, tried and tested chip that is used in connection with passports or credit cards. Your data will never leave the secure environment of this chip! If you travel a lot for business or pleasure, the security of your digital money is very important. In this sense, your digital assets will be preserved even if you lose the device or if it is damaged. Use the 24-word recovery phrase to restore your accounts on any other Ledger Wallet. For storing the recovery seed phrase and your access data, we also offer you highly secure product innovations.
Mobile, secure, multifunctional & simple: a powerful Ledger Hardware wallet for many cryptocurrencies
Thanks to the latest Bluetooth technology, you can carry out transactions with the highest level of security everywhere. The Ledger Live Mobile App will never lose track of your transactions, which are encrypted end-to-end on all Bluetooth connections. Get now innovative future technology, as the Ledger Nano X allows you to store up to 100 applications simultaneously. You do not have to commit to a specific cryptocurrency like Bitcoin if you choose this hardware wallet from Ledger. By managing cryptocurrencies on a hardware wallet, you never lose the overall view and you can keep and use each individual currency as safe as possible. In addition, new currencies and applications can be added!
The Ledger Nano X offers everything you need for the future of digital money in terms of security, design, flexibility and functionality. Take advantage of this Bitcoin Wallet and use leading technology for the protection of all your digital cash!
Delivery:
1x hardware wallet
1x USB cable
1x instructions for commissioning
3x recovery sheets
1x lanyard
Product details:

Color:
black, stainless steel
Size:
72mm x 18.6mm x 11.75mm
Weight:
34g
Material:
Brushed stainless steel and plastic
Battery:
100mAh
Connector:
USB Type-C
Certification level:
CC EAL5 +
Chips:
ST33J2M0 (secure) + STM32WB55
Compatibility:
64-bit desktop computer (Windows 8+, macOS 10.8+, Linux) or smartphone (iOS 9+ or Android 5+) 
---
Private Key metal plate, stainless steel (V4A) incl. engraving pencil
Paper Wallet is history: This is forward-looking security for your private keys!
After extensive product testing, we offer you the best hardware wallets to use digital currencies such as Bitcoin, Ethereum or Ripple very flexibly and with a high degree of security. In this respect, we strongly recommend you not to back up passwords (private keys) on a paper wallet. Paper is too weak to permanently secure this very important data. Fire and moisture are enough to make your important access data unreadable. With this extremely robust metal plate, you rely on a very durable material on which you will find enough space to engrave sensitive data.
Enough space to engrave private keys and more
The metal plate for the physical security of passwords provides a clear structure and individually usable space for security-relevant engravings. In the first line, you can engrave your Bitcoin address, in the second line the corresponding private key. If you also use Ethereum, you can use the following two lines in analogous way. The rest of the space is deliberately blank, so that you can engrave exactly the passwords for cryptocurrencies that you want to use. You should not keep passwords on a paper wallet, as paper quickly becomes unreadable due to external influences. And of course, you should not store passwords and other sensitive data related to the use of cryptocurrencies on the Internet. If you want to use a robust protection that is completely safe from hackers and various influences (fire, water, acids etc.), then this metal plate with its functional material mix is the perfect choice.
Individualize this metal plate (V4A) with passwords
Please take a look at the product video: You will see that it is quick and easy to create engravings for passwords and addresses for various cryptocurrencies. The high-quality pen with diamond tip makes engraving easy. The pen slides well over the surface, you do not have to apply significant pressure. Metal plate and engraving pen have been designed to ensure the best possible readability for sensitive data. The following advantages show you which functional details you can use with this metal plate.
Advantages in the overview: a paper wallet cannot keep up!
extremely high protection against fire due to a melting point of approximately 1,400 degrees: The fire experiment shows that the engravings are even better readable after high temperatures
robust against solvents, salt water etc.: very efficient protection against corrosion
the functional material mix (V4A) is used in industry
integrated molybdenum provides efficient protection against chloride-containing substances
anywhere storable thanks to credit card size and light weight (34 grams)
can be used for all crypto currencies: The clear basic structure offers plenty of room for further engravings
This metal plate does what it promises!

The melting point of 1,400 degrees proves that the material mix, which contains chrome and nickel in addition to stainless steel, is designed for extreme robustness. Therefore, it is not surprising that exactly this material is used successfully due to the very strong solidification in industrial areas. The special mix of materials (also known as 1.4401 stainless steel) is highly corrosion resistant and can withstand aggressive substances such as iodide, sulfuric acid or bromide. Your engraving is safe, no matter what extreme external influence affects the metal plate.
Fire protection 2.0 for your passwords: a paper wallet looks black fast...
True to this motto, you should take a look at our fire experiment. We have tested the metal with temperatures more than 1,200 degrees. And the result is impressive: After being exposed to heat, the engraved code is still very well, if not even with a better contrast, readable.
Practical design for everyday use!

Now you may think that the extreme robustness of the material requires chunky proportions. The opposite is the case because with only 34 grams and credit card size, this metal plate fits actually everywhere. It must be in your interest to sustainably increase safety with this innovative product idea. Therefore, you should consciously opt for a repository that is inaccessible to outsiders.
This set convinces qualitatively with every detail

We want to offer our customers convincing quality that stands for safety. A very positive user experience is provided by the high-quality engraving pen with both excellent performance and handiness. The strong, battery-powered motor ensures that passwords can be engraved quickly and precisely on the metal plate. The practical slide switch allows you to fully focus on engraving. With the high-quality diamond tip, you will create first-class engravings without any prior knowledge, and not only on this metal plate. The engraving pen also delivers excellent results on plastic, ceramics and stone. If you've only had a negative experience with cheap engraving pens so far, you will love this model.
Please keep these tips in mind:
You should take your time and silence to engrave; the deeper and the more careful you work, the easier the engraving will be to read. This plate should always be kept separate from your hardware wallet.
Your passwords for Bitcoin and Co. deserve more security than a paper wallet can guarantee. Use this functional set to permanently protect your sensitive data from extreme heat, moisture, harsh substances and hackers.
Delivery:
1x Private Key stainless steel plate (front and back writeable)
1x engraving pen with battery compartment (batteries, 4x AA not included in delivery)
1x storage box (stainless steel) for metal plate, brushed
1x gift box
Details of the product:
Metal plate:
Material:
stainless steel WNo. 1.4401 (X5CrNiMo17-12-2), AISI 316, (V4A)
Size:
85 x 55 x 1 mm
Weight:
34 grams
Surface:
brushed
Print:
black, etched
Engraving pen:
Application:
on stainless steel, stone, wood, plastic, ceramics, glass, silver, metal, leather
Battery type:
4 x AA (batteries not included)
Tip:
diamond
Engine:
18,000 RPM
Weight:
103 grams
Engraving pen dimensions:
16 x 2.5 cm
Battery compartment size:
62 x 78 x 25 mm