Bundle: Ledger Nano S + seed metal plate incl. engraver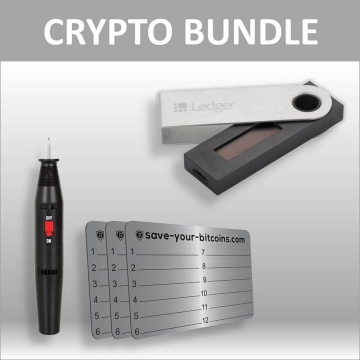 Our Crypto Bundle offer includes the following products:
1 x Ledger Nano S - Hardware Wallet
1 x Recovery Kit with optional 1-3 Seed Phrase Metal Plates incl. Engraver

Detailed description of each item is as follows:
---
Ledger Nano S - Hardware WalletCryptocurrency storage with Ledger Nano S: safe & functional!
Here, you will find an innovative solution for managing emerging crypto currencies: Ledger Nano S is a handy hardware wallet for Ethereum, Bitcoin and Altcoins. It is based on efficient security features in order to store any cryptographic asset. A connection via USB is possible to any computer and this wallet has an embedded secure OLED display. Because of this, every transaction can be checked or confirmed by tapping the side buttons once.
Newest generation of hardware wallet
If you own or want to use cryptocurrencies on a regular basis, you should protect your confidential information and access to funds. With Ledger Nano S, secrets such as private passwords are never revealed: sensitive transactions are isolated within your hardware wallet in a secure element protected by a PIN code. Transactions can therefore not be manipulated by others because they are physically verified on the embedded screen.
Pay and authenticate with maximum security

Finally a solution for the storage of cryptocurrencies: Ledger Nano S includes Litecoin, Ethereum, Bitcoin and Ethereum Classic companion apps. Furthermore, it contains other Blockchain-based cryptocurrencies. You can realize and receive payments, check accounts, and manage numerous addresses for various cryptocurrencies on the same device with desirable clarity. This wallet also provides the standard Universal Second Factor, which simplifies the authentication for compatible online services such as Dashlane, GMail, GitHub or Dropbox.
Hardware wallet - the most important advantages:
with the update to 1.4.1 are now up to max. 18 simultaneous wallets possible
protection for encrypted data by a secure chip
transactions can be confirmed on the embedded screen
integrated 8-digit PIN
support for Bitcoin and Ethereum
integrated onboarding
easy backup and restore/ BIP39 seed (12/18/24 words)
FIDO, SSH, U2F, GPG: support for multiple apps
USB connectivity is given
compact and foldable design
compatibility with Ledger Wallet Bitcoin (application for Chrome)
The most important functions in an overview:
Multi-currency - Support for Altcoins, Litecoin, Ethereum and Bitcoin: you can manage different cryptocurrencies with the same hardware wallet.
Integrated display - Just check and confirm transactions at any time on the display and physically confirm them with one key. Malware does not have any chance!
Safety - Your confidential data is always well protected: it is secured within an isolated environment and additionally protected from access by a PIN code.
Multi-Apps - Use companion apps (FIDO® or SSH for example) or you may create your own applications.
FIDO® certified U2F - Support for the Universal Second Factor standard (FIDO®). Authentication is possible on Dashlane, Google, Dropbox or GitHub.
Back-up & restoration - Back-up of accounts on a recovery sheet. Easy recovery is possible on any Ledger device and/or compatible wallet.
Hardware wallet for more security:
Security element - ST31 / STM32, certification level: CC EAL5 +: Dual-chip architecture. Firmware integrity due to cryptographic attestation.
More security against malware - The initialization of all configurations takes completely place in a very secure environment. This also applies to any necessary restoration. Your encrypted data will never be seen by unauthorized persons.
8-digit pin code - The Ledger Nano S allows only accounts to be accessed if an 8-digit PIN code is entered.
Data protection - Your private passwords are never stored on the hardware wallet or made accessible to third parties: they are protected with maximum security as wallet remains decentralized at any time
Accompanying apps for a convincing range of functions

The Ledger Nano S offers numerous complementary applications. You can use the latest apps (security features) because the Ledger Manager will make possible firmware updates and targeted search of the app catalog: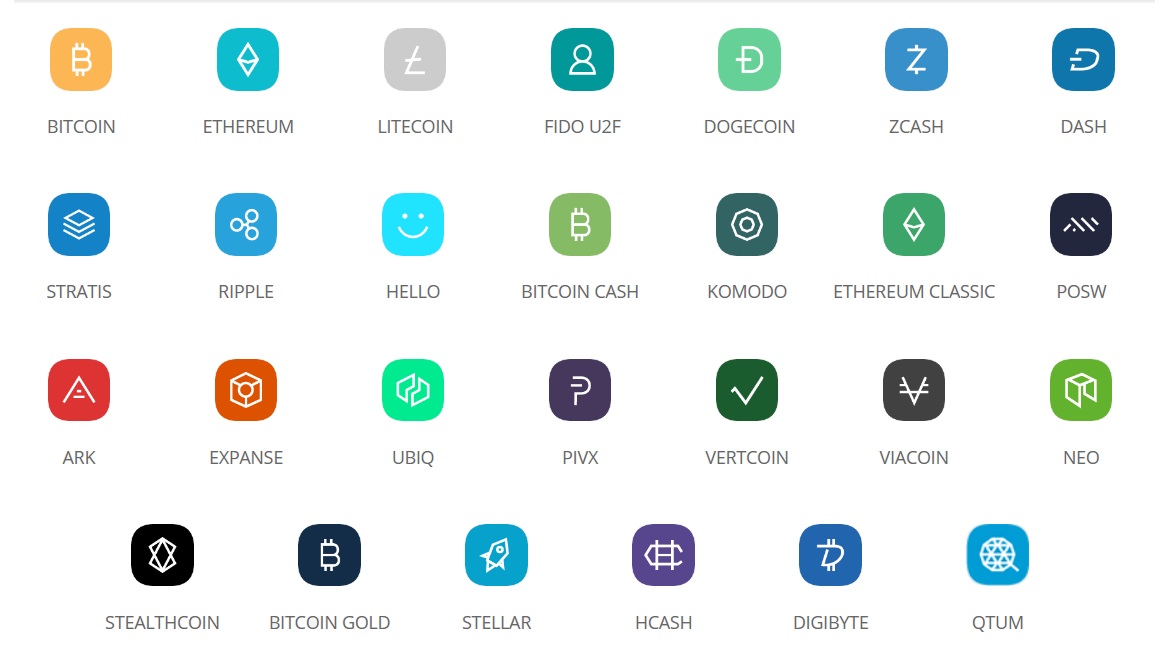 New cryptocurrencies are always added based on availability, so you are always up to date on the most flexible options.
Use & discover a variety of integration options
Ledger Nano S has its own cryptocurrency interfaces: these are Ledger apps available for Google Chrome. Below you can get an overview of compatible software solutions:

Wallet for cryptocurrencies: Why do you need a hardware wallet?

If you are not familiar with the term hardware wallet, you may be wondering what are the advantages compared to a paper purse or an encrypted private file on a computer?
Hardware wallets offer a complete isolation of cryptographic secrets and the computer/smartphone. Both are quite easy to hack as their weaknesses are well known. If you keep your sensitive credentials there, it's only a matter of time before you will lose everything.
A paper wallet is not really safe. It requires you to import your private data to your computer. And if you believe that a password is sufficient for encryption, then malware is smart enough to wait for unavoidable decryption even before you can use your credit.
A hardware wallet is portable, practical and backed-up by a paper wallet that allows an easy recovery in the event of a loss. If you own and regularly use a significant amount of bitcoins, the use of a hardware wallet should be self-evident.
Attention! With the update to 1.4.1 are now up to max. 18 simultaneous wallets possible
Technical specifications
Size:
60 (98) mm x 18 mm x 9 mm.
Weight:
20 g.
Connector:
USB Micro-B Type CC EAL5 + level of certification
Chips:
STM32F042 + ST31H320 (secure)
Compatibility:
Mac (10.8+), Windows (7+), Chrome OS or Linux. Google Chrome or Chromium required and a USB port for the connection to your Ledger Nano S
Materials:
Brushed stainless steel and plastic
---
Seed phrase - Recovery Metal plate incl. engraving pen
Nothing gets lost with this recovery metal plate incl. engraving pen
With our functional hardware wallets from our attractive selection, you will enjoy the power of future-oriented technology to securely and flexibly use digital currencies like Bitcoin, Ethereum or Ripple. For the protection of your personal possessions, the so-called recovery phrase plays a central and decisive role. It should always be kept safe so that your data can be recovered quickly, safely and without loss in the event of theft or damage to your hardware wallet.
But where should you keep this long password safely?
Paper (paper wallet) is for sure not the perfect solution as it is quickly unreadable due to external influences such as water, heat or sun. There are supposed to be paper monsters who secretly sneak into our walls at night and simply eat paper which then disappears. In the worst case, you lose access to restoring your finances with a paper wallet. Better rely on the innovation that we have introduced and developed: Get this special metal plate that can be engraved in a few simple steps (the necessary engraving pen is included).
From now on, store the recovery phrase on a physical metal plate that is extremely resistant to external influences such as fire and acids.
Even though we are all fans of the internet, the recovery seed should not be there in any form!
We guarantee that our metal plate is safe from hackers -> no USB, no LAN, no BT :)
This metal plate easily becomes a safe place for the recovery phrase
Please take a look at the short video that shows you the simple application and the advantages compared to a paper wallet. After that, you can start immediately, even without previous experience in engraving. Hold the pen securely in your hand and turn it on. You will develop a very good feeling for engraving after the first sign. Thanks to the diamond point, the pen glides pleasantly over the surface so that you hardly must exert any force. This ensures good readability.
Physically secure your recovery phrase now: advantages & features
efficient protection against fire (melting point at 1.400 degrees Celsius): legibility remains guaranteed!
highly effective protection against corrosion (salt water, solvents etc.)
only high-quality materials have been chosen for this metal plate
the contained molybdenum protects the engraved code and the card from chloride-containing substances
handy and lightweight, flexible to store (credit card size, weight only 34 g )
You can, if you wish, engrave further information with the pen provided (parts of the wallet address, a note which wallet...)
The material convinces with these properties
You will hold a functional mix of materials in your hands that contains not only steel, but also 17% chromium, 12% nickel, 5% carbon and 2% molybdenum. At a melting point of 1.400 degrees, this plate has a very strong overall solidification. For the process of engraving, only the supplied pen should be used for perfect results. It is a material mix that offers optimum corrosion resistance. In numerous industrial areas, this field-proven material is used (it is also known under the designations of stainless steel 1.4401 or 316). The plate is very resistant to aggressive substances such as sulfuric acid, iodide or bromide. The addition V4A in the product description indicates that, due to its nature, this metal plate offers excellent long-term protection against rust. This high-quality steel is also used in the chemical industry, in swimming pools (chlorine) or in refractory systems in salt water.
Which alternative offers this kind of protection against fire?

A paperwallet may be an obvious way to keep passwords safely. We certainly do not need to tell you what happens to your recovery phrase on paper in the event of a fire. If you engrave your personal access key on this special plate, it will still be readable after a fire. Please take a look at our product video with the fire experiment. We tested up to 1,200 degrees and the engraving was even better to read after this extreme heat impact!
Handy, practical and easy to store
Although it is a robust metal plate, it is still very handy. It fits into any standard wallet and can therefore be flexibly carried anywhere - we decided to use a credit card format. Of course, you can also deposit in a safe. We have designed the metal plate so that you can use even more space for engraving. Keep your private keys or the BTC address on this extremely resistant metal plate. We have designed the metal plate so that you can use even more space for engraving. Safe your private keys or the BTC address on the back of this extremely durable metal plate.
The quality of the engraving pen depends on every detail
And you will notice that when you hold the engraving pen in your hands and easily write the first letters/ numbers on the plate. Its high performance makes it easy to engrave your personal recovery phrase. In this regard, the integrated diamond tip provides perfect results for many surfaces such as stainless steel, stone, ceramic and plastic. Cheap alternatives quickly cause handling issues, so you often cannot read the engraving well. With this model, you can rely on convincing quality. The engraving pen is battery operated and has a powerful engine. Anyone who already knows engraving pens knows that cheap versions cause problems as the push button must always be pressed or the engine is simply too weak. We have spent a few euros more and provide you an engraving pen which has a slide switch and thus, after being switched on, you can be completely focus on the engraving. 
An important note:
Please take time for engraving. The deeper and more carefully you engrave, the safer and better legible the engraving will be.
A paper wallet is not the perfect security base - enjoy future-proof security from now on! True to this motto, enjoy with this innovative set new ways to make the recovery phrase virtually indestructible and consistently keep it away from hackers, other virtual threats and fire, water or even acids!
Delivery:

1 x recovery stainless steel plate (front and back engravable)
1x engraving pen with battery compartment (batteries, 4x AA not included)
1x storage box (stainless steel) for metal plate, brushed
1x gift box
Product details:

Metal plate:

Material:
Stainless steel WNr. 1.4401 (X5CrNiMo17-12-2), AISI 316, (V4A)
Size:
85 x 55 x 1 mm
Surface:
brushed
Print:
black, etched
Engraving pen:
Application:
on stainless steel, stone, wood, plastic, ceramics, glass, silver, metal, leather
Battery type:
4 x AA (not included)
Tip:
diamond
Engine:
18,000 RPM
Engraving pen size:
16 x 2.5 cm
Battery compartment size:
62 x 78 x 25 mm